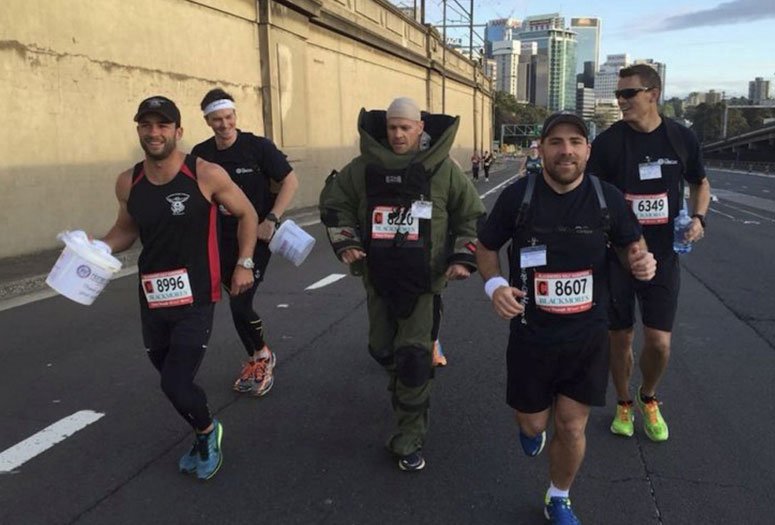 Hurt locker for dive hero
Lieutenant Jason Dawson was in the hurt locker on 20 September, when he pushed his body to the limits, running the Sydney Half Marathon in a 45kg bomb suit.
The Executive Officer of Clearance Diving Team One donned the suit and pushed his body to its endurance, during the 21km race.  With an goal of 4 hours and 30 minutes, Lieutenant Dawson smashed his own expectations, in 2 hours 49 minutes – all in the name of charity.
His herculean effort raised over $5,000 to RSL LifeCare, which runs the Homes for Heroes program at Narrabeen, New South Wales, a cause Lieutenant Dawson says is close to his heart.
"It was tough and I'm paying for it now, but it's all worth it to help Home For Heroes," he said.
"They provide accommodation and rehabilitation to ex-servicemen facing homelessness, injury and Post Traumatic Stress Disorder.
"As a Clearance Diver, working in a unit at the forefront of the Defence Force's fight against Improvised Explosive Devices, I am well aware of the dangers posed by these devices and the risks sailors, soldiers and airman face in warzones," Lieutenant Dawson said.
"I have witnessed firsthand returned veterans with physical and psychological injuries as a result of their service.
"For this reason I feel compelled to do something, to raise money for and awareness of young veterans in need.
"These people have served their country and deserve our support, to get back on their feet," Lieutenant Dawson said.
Members of Australian Clearance Diving Team One supported Lieutenant Dawson during the marathon and carried donation buckets.  Able Seaman Jackson Sharp said he was inspired by his Executive Officer's commitment.
"To prepare for the half marathon, Lieutenant Dawson undertook extensive training.
"While as Clearance Divers we are required to maintain peak physical fitness, wearing a bomb suit for 21 kms, took it to a whole new level.
"The punishment his body must have endured with the heat, lack of oxygen and the additional weight would have been extreme – it's really impressive," Able Seaman Sharp said.
Lieutenant Dawson acknowledge the support his wife and members of his team provided in getting him across the line.
"It was great to have the support of the guys from the team collecting donations along the route.
"My wife Jane also ran with me and encouraged me along the way," Lieutenant Dawson said.
Donations can still be made online at: www.givematcher.com.au/fundraisers/australian-clearance-diving-team-one.
More information on Homes for Heroes is available at rsllifecare.org.au/young-veterans/